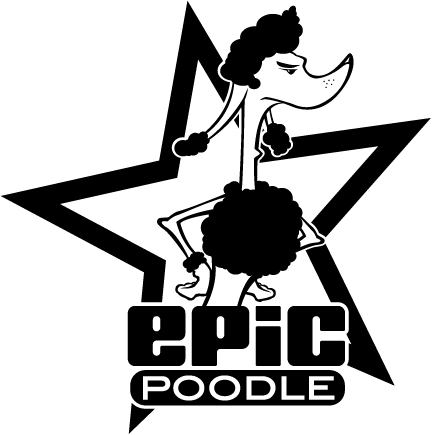 Welcome to Epic Poodle!
EpicPoodle.com is dedicated to the enjoyment and creation of comics and graphic novels. It's very much a work in progress, but I dream big. :-)
Find Comics
Some people believe that the only good comics you can find are in a store, on paper, published by one of the big comics companies, but there is a fantastic collection of absolutely-free webcomics and graphic novels that will blow you away. The Internet is leveling the playing field and some of the best new comics around aren't even bothering trying to find a publisher who understands their unique vision. You'll find out about dozens of these here. I pay homage to some fantastic "dead trees" graphic novels, but I focus on web-based offerings because that's where my aspirations lie.
Make Comics
I've spent a lot of time learning guitar on a fantastic web site called JustinGuitar.com. Justin Sandercoe believes that everybody should be able to learn guitar, not just rich people in western countries who can find a teacher and afford lessons, so he's putting everything he knows about playing on his site for free. If you love guitar, it is the center of the universe.
I believe that art in general -- and comics in particular -- is for everybody, not just rich people, so I'm dedicating myself to creating a free library of information about making comics and getting them up on the web for little or no cost. I use free, legal software -- The Gimp and Inkscape -- so if you can scrounge up enough for even a tiny graphics tablet, you should be able to do anything you see here at home.
After all, that's one great thing about art: if you want more, just make more!